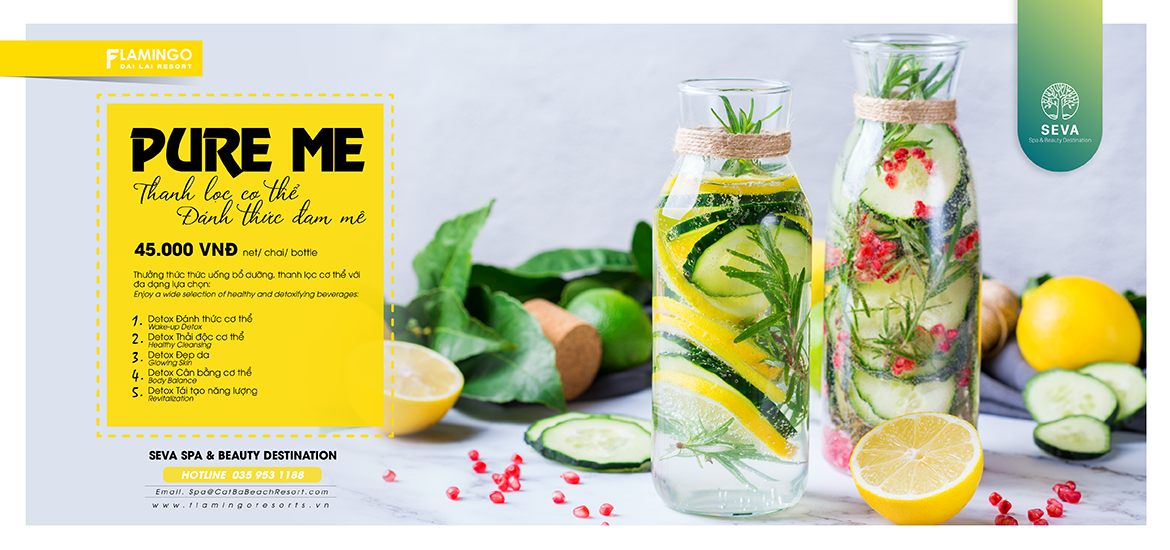 𝐏𝐔𝐑𝐄 𝐌𝐄
🍹 Detox water is water that has been infused with the flavors of fresh fruits, vegetables, or herbs. It's sometimes referred to as fruit-infused water or fruit-flavored water. Because it's made by infusing flavor, rather than juicing or blending, detox water contains very few calories.
✨ At Flamingo Cat Ba, your wellness and beauty are always respected and prioritized because we think those are the two most important factors for a blissful life. Therefore, with the true purpose of a healthy lifestyle for every guest, we create a wide selection of healthy and detoxifying beverages which can help contribute to your journey of reaching perfect wellness.
💸 Price: VND 45,000 Net/ Bottle
👉 Enjoy a wide option of Detox drinks, including:
🔸Wake-up Detox
🔸Healthy Cleansing Detox
🔸Glowing Skin Detox
🔸Body Balance Detox
🔸Revitalization Detox
💫 Come to Flamingo Cat Ba and indulge yourself in every memorable experience!
----------
𝐏𝐔𝐑𝐄 𝐌𝐄
Thanh lọc cơ thể - Đánh thức đam mê
📞 035 953 1188
🌎 flamingoresorts.vn
📥 Zalo Official Account: Flamingo Resorts
❤️ IG: flamingocatba
📍 Bãi tắm Cát Cò 1 - 2, Thị trấn Cát Bà, TP. Hải Phòng
có thể bạn quan tâm
Đang cập nhật nội dung ....